My Latest Project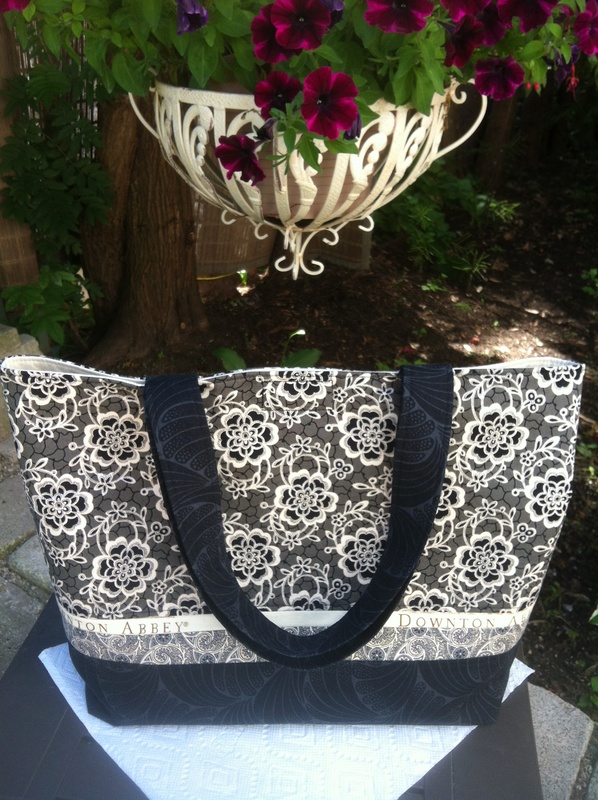 My Latest Project features the Tuscany Tote by Nancy Green for Pink Sand Beach Designs. It was a gift for my middle niece's 20th birthday.
While attending the Quilt Canada conference in St. Catherines, ON, we spotted this kit and knew instantly it was the perfect gift for my niece. She's a fan of Downton Abbey, specifically of the Dowager Countess, played superbly by Maggie Smith, and the kit featured three of the fabrics from the character's fabric line.
For those who may not know, Andover Fabrics produced 4 lines of fabrics to celebrate the popularity of Downton Abbey. Each line represents one of the main female characters, so each features different colour-ways and prints; fabrics the ladies would have worn for the period. Additional lines are coming soon! I describe the Dowager's collection as dark, rich, elegant, yet bold, which is a refection of her character. Come to think of it, this describes my niece, as well.
A few additional supplies were needed, but all is listed with the clear instructions for assembly. They did not address, however, whether to wash the fabrics before assembly, but I elected to do so anyway. I wanted the tote to be washable in case anything were to spill on it, so I wanted all the sizing and shrinkage to be out of the fabric before I cut it out. As well, one of the fabrics is a very saturated black, so I wanted to be sure any excess dye was washed away before assembling the tote with the lighter lining fabric. Dyes are quite good these days, but I rather err on the side of caution, just for peace of mind. The tote went together beautifully. The directions were easy to follow and were accurate, and both my niece and I are thrilled with the results! I recorded a video of her reaction opening her present, but I know she'd stop speaking to me if I posted it here. : ) You'll just have to take my word for it!
The tote measures 16" wide x 12" tall and 4" deep. I love the design of having so many pockets inside, and I further customized them by stitching smaller channels, specifically for pens and a note pad. The pens and note pad from The Sewcial Quilter fit perfectly!
A closure was optional, and the instructions recommended a snap, but, given I didn't have one at the time, I used a little Velcro instead.
I didn't time myself, but from start to finish likely took about 4 hours. I worked at my own pace, didn't rush, just enjoyed the process. I likely could have finished it in half the time had I really pushed as if I were on a dead-line, but, either way, 4 hours really isn't a long time to produce something so beautiful and functional.
I'll definitely make this tote again. Sew many possibilities!